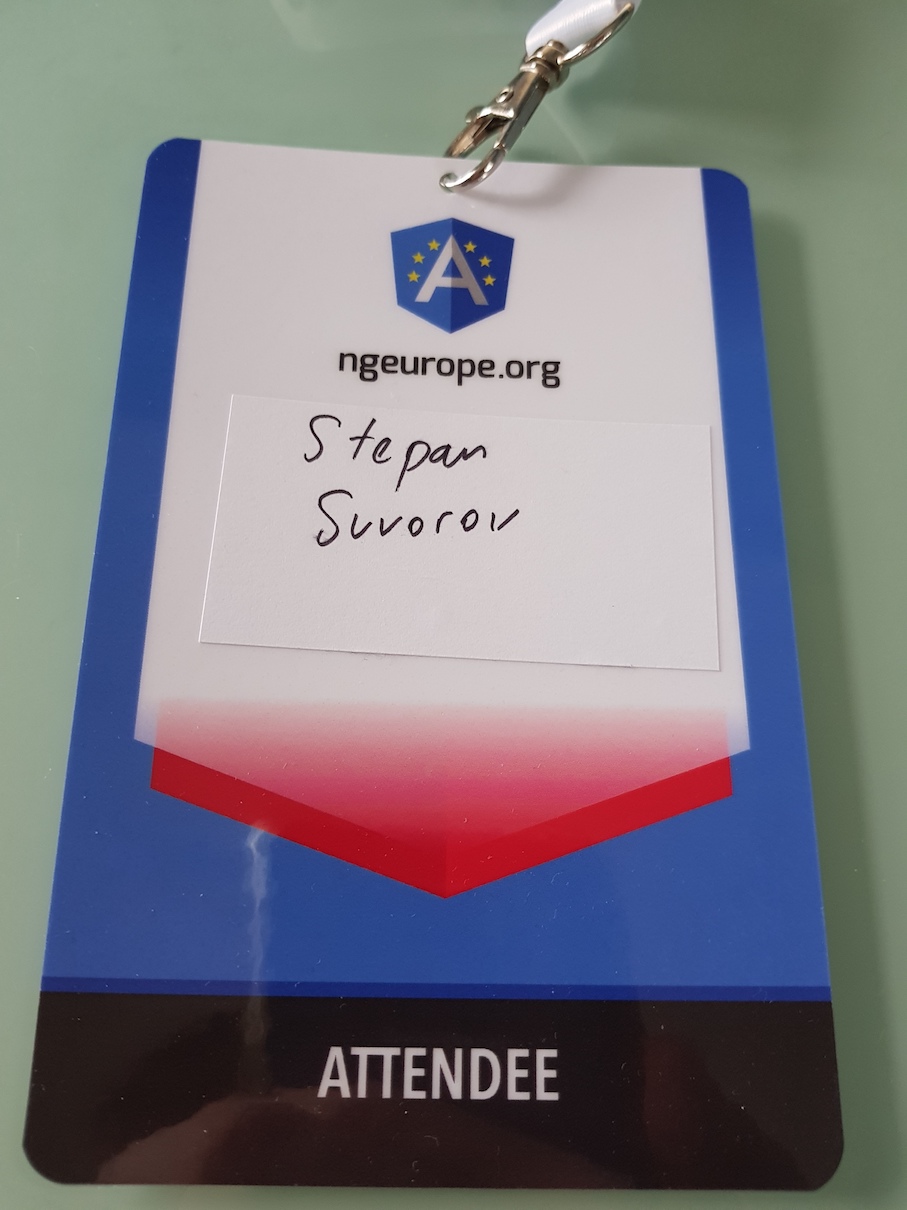 Just to have less confusion I would like to say that there were no ngEurope2017, it was ngEurope2016 in October and next one was ngEurope2018 in February.
Manfred Steyer – High-Performance Applications with Angular (video)
Lazy loading
OnPush
AOT + TreeShaking(with build optimizer)

new AOT compiler is coming

Service Workers for caching (did not cover)
what is Angular
what is PWA
what is firebase

auth
database
storage
cloud functions

AngularFire2
Christian Liebel – On the road to PWA: building real-cross platform Angular apps with Cordova & Electron (video, code)
real cross-platform:
single codebase
maximum code reuse
What is PWA?
Native App Packaging: Cordova and Electron.
Demo session to show how DI works for different devices based on env.
Stefanie Trimble Fluin – Creating Beautiful Experiences Fast with Angular Material (video)
material design
angular material

basic intro how to use the library

theming
CDK (was not covered)
need to have angular components outside angular
introduction of web components
Angular Elements – angular components packaged in web components

@angular/elements
ngDoBootstrap inside component
registerAsCustomElements
Relative video: Pascal Precht – Angular Elements (at ng-be)
Asim told us 3 hacker break-in stories that based on simple things.
Story1: Github story
git hook to localhost -> http://0:9200/_shutdown -> http://0:email -> memcache -> deprecated python library
moral: don't underestimate small things
Story2: Equifax
moral: use latest versions of your software to be sure that there are no known vulnerabilities
Story3:
About cross-env fake npm package
moral: don't trust npm by default, there are fake npm packages.
nsp – tool to check for package version
Todd Motto – Angular Architecture: From Patterns to Implementation. (video)
Todd tried to show an example of real-world objects and their communication to describe Redux(or ngRx) logic and high-level component/modules architecture.
Sean Larkin – webpack4: most important update for Angular  (video)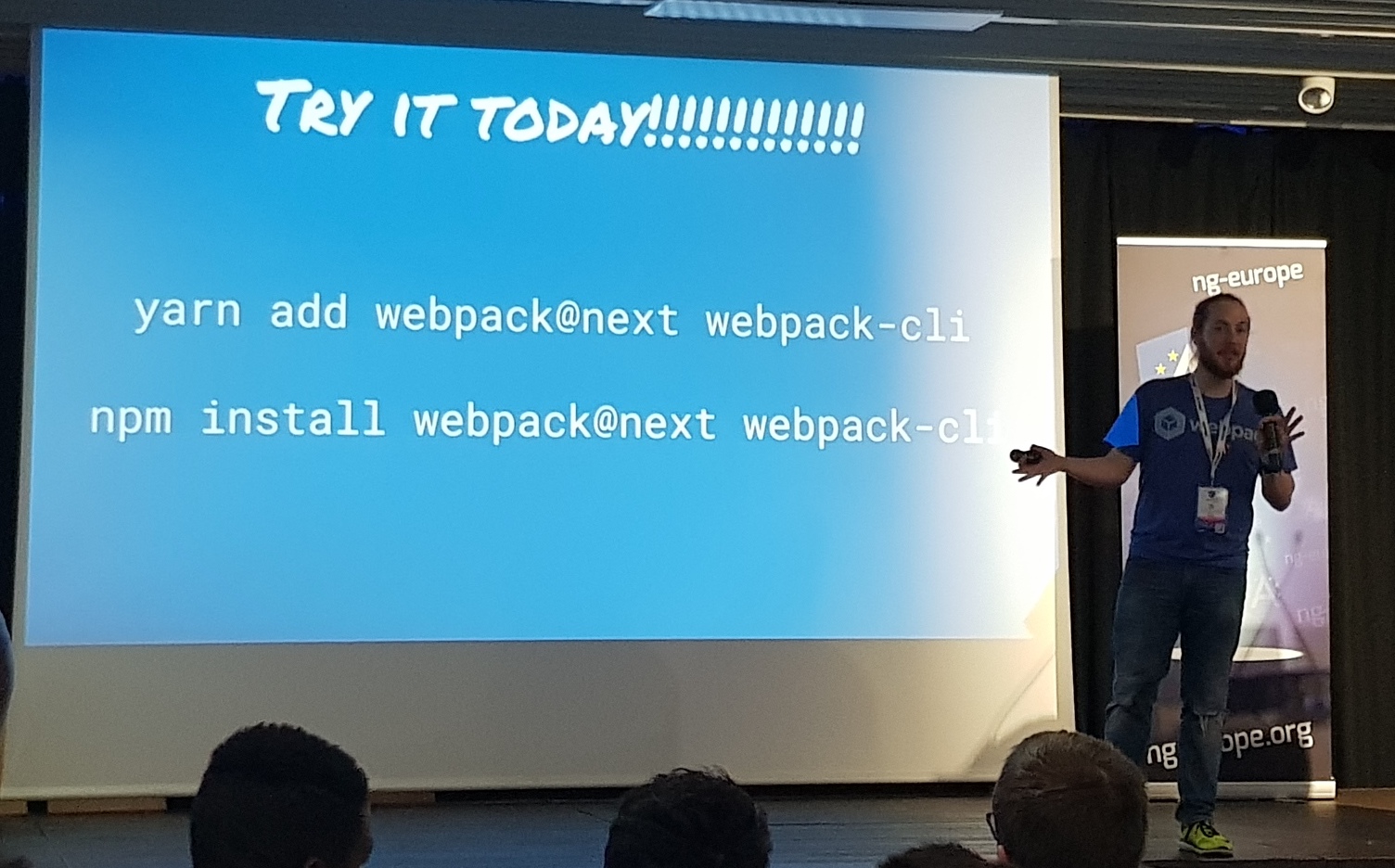 Quite inspiring one!
smaller and faster builds

new plugin system

hooks are now monomorphic

modernization
developer experience
Adam Bradley – Next Generation Ionic: Built for PWAs and interoperability (video)
From the beginning, I have a feeling that it was a paid talk from a sponsor.
ionic uses customElements (the same as Angular Elements)
need to have a look at stenciljs (it's still unclear after the talk)
lazy loading on component level
Sven Sauleau – Let's compose JavaScript and Reason (video)
It was quick intro with simple examples of Reason power over types. If you are about to start with Reason I strictly recommend to watch this talk.
Mashhood Rastgar – Rapid prototyping using Angular and Firebase (video)
Mashhood was showing a live coding doing a twiter clone with Firebase: database and auth. The whole app to create and deploy took him only 12min!  If you want to start working with Firebase services check the video.
Jen Looper – Boost Your App's Emotional Intelligence with NativeScript, Angular and Machine Learning (video)
IMHO, the most inspiring talk of the conference. It was a combination of IoT, AI, and NativeScript.
After this talk, I already want to buy some IoT sensors and start building NativeScript to manage them.