Just because this post turned out to be popular. I made version in English.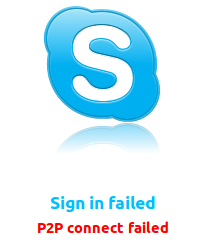 Today I've faced with next problem: Skype didn't want to start for a long time and after I saw a message "P2P connect failed". Skype restart and PC restart didn't solve the problem. Without a second thought  I'd backed up account folder (/home/%username%/.Skype) and made it clean. And it really helped – skype started normally.
If somebody got known what's wrong – put it down in comments please.